Good to know:
All litters born after 2005 have a prefix (capital letters between kennelname and dogs name) that shows the parents in the name. For example "DT" means father Duro and mother Tolga
Easy to follow the bloodline and littermates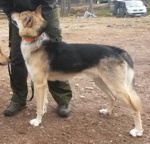 SE(polar)Ch Ylajärvis BG Leonhard "Leo"
2011-09-21

e. Vargteam Birk
u. SE(polar)Ch SEUCh Ylajärvis SM Greenheart
eyes checked clear
Hips and elbow OK

Stud dog
Main leader
Big and strong and beautifull movements. Will be very important for me for many years to come... Extreamly good work attitude!

Led the team at VC Kandersteg. Silver medal. His first race...