Good to know:
All litters born after 2005 have a prefix (capital letters between kennelname and dogs name) that shows the parents in the name. For example "DT" means father Duro and mother Tolga
Easy to follow the bloodline and littermates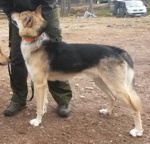 SE(polar)Ch NTCH Ylajärvis BG Leonhard "Leo"
2011-09-21

e. Vargteam Birk
u. SE(polar)Ch SEUCh Ylajärvis SM Greenheart
eyes checked clear
Hips and elbow OK

Stud dog
Main leader
Big and strong and beautifull movements. Will be very important for me for many years to come... Extreamly good work attitude!

Led the team at VC Kandersteg. Silver medal. His first race... Has led my team in almost all races and he is truly an amazing Siberian for all distances.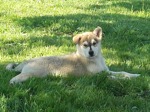 Ylajärvis IG Minik

born 2016-03-17

e. Siberian Sleddogs Ittoq
u. SE(polar)Ch Ylajärvis Greenhart


Late bloomer who supriced me alot with his development during season 2018 with being not even close to the A-team i january and ending the season at Polardistance300 as one of the best... Not even 2 years old!!

Very cute and lovely male. He was born extreamly small (half normal size) and had a rough start so has a bit special lookes...

Has grown in to a great and reliable team member! I have tried him a few times in lead with good result.