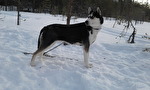 SE(polar)Ch Svartedalens Tanana "Tarzan"
2013-05-06

e. SEUCh SE(polar)Ch NO VV-15 Ylajärvis Vargtass
u. SEUCh Blitzen

eyes checked clear
goniskopi checked clear
Main Leader

2*CAC
won Norwegian speciality show 2017

What an amazing girl... My golden girl!

Her first race season she led the team to victory at 4/6 races. One victory-race in point and one 4th place in stage race. Was in lead all three days at VC Scharnitz 2015 wich we won.

Happy charachter! She is her father reincarnated.. They are so alike!! Almost scaringly alike...

My main leader. Loves speed!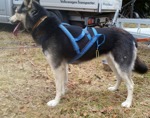 Ylajärvis LS Lovely Sapphire

Born 2014-06-04
e. SE(polar)Ch Ylajärvis Leonhard "Leo"
u. SEUCh Sally

main leader
BIG and STRONG!!!

OMG... this girl... Amazing worker and a great leader. She is a copy of her father...
Problably the siberian most lookalike to the originals 100years ago. She is pure power... Can absolutely not walk in a leash so luckily she can walk loose.

Has 5*1 price but never shown in showring so not SE(polar)Ch yet.













SE(polar)Ch SEUCh Ylajärvis SM Greenhart "Grynet"
2008-07-18

e. SEUCh NUCh IGAIS Tassar Canis Major Sirius
u.SE(polar)Ch Ylajärvis Mettemarit
Eyes checked clear
Hips and elbows perfect

Lovely girl with flawless movements and great stamina and work attitude.

Finished alot of races! Grynet is a stayer. Never a bad day.

Strong and eager worker. Extreamly good eater and metabolism, always a bit fat... No matter how many km training!! Mother to Leo, Sandy, Lo and Minik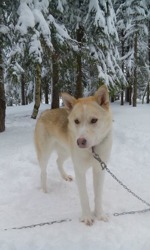 SE(polar)Ch Ylajärvis LS Lively Spirit "Gul"

born. 2014-06-04
main leader

e. SE(polar)Ch Ylajärvis Leonhard "Leo"
u. SEUCh Sally

eyes checked clear

Leader with amazing movements and a will to run fast!

Has led the team to victory at all races in 2016! Sprint, mid and long distance her first race season... also main leader at races 2017.