Malin Sundin
35 years old :-) Mother to Zebulon born 26/8 -2016 Married to Mattias.
I have compeeted with sleddogs for more than 20 years. Siberian Huskys, German shorthaired pointer, Euro hounds and Alaskan Huskys. At the moment I have only pure breed Siberian Huskies.
My proffession is author, writer and dairy farmer and I have togheter with my husband ~45 cows +heiffers. I live in Orsa "center of Sweden"... 300km to three "capital" cities. Östersund, Stockholm and Oslo! Orsa is close to Mora (Vasaloppet. Wasalauf) so it´s really a good area for outdoorsports, skiing and dogsledding.

If you want to follow on a trip with the dogs. Contact me! We have a cottage at Koppången where we can start the sledge tour.
I litterally grew up in the dogyard and started my own kennel-bloodline in 2000. Starting from my fathers succsessful dogs. The whole family compeeted with the dogs in mostly pulka style but offcourse also with sled! We have always trained and compeeted with our dogs in all kinds of styles and distances. Multipurpose dogs. We prefer longer distances and all the foundationdogs of the kennel compeeted at Femundlöpet 500km 1994. Fantastic female Disa as leaddog. Today it´s the fifth generation thats runs in lead, leading my team to victory.
My dogs have finshed several Long distance races; Amundsen Race, Amundsen Race DUO, Femundlöpet, Polardistance and many more middistance races... Won the World Championships 2015 and 2017...
Bloodlines from historic dogs: Anadyr, Snowtrail, Zero, Iglo Pak, Vargevass
Bloodline in present dogs that will be used in breeding (other than already presented above): Alka-Shan (sepp-alta), Vargteam, HCÖ
This is me in typical summer outfit...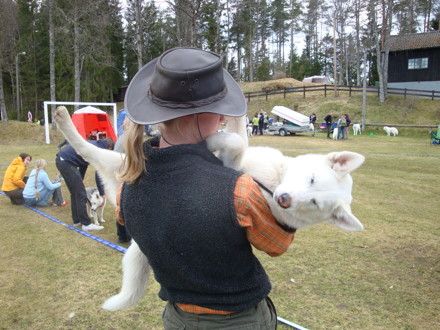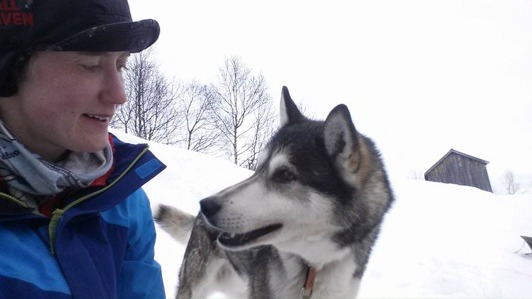 Me and my deeply beloved SE(polar)Ch SEUCh Ylajärvis Vargtass.
He is been my most valuable dog for years. Picture taken after Norway Trail 2015.
Ylajärvis HT Mitch
OMG...this dog... He is so perfect it is almost not real... ;-) Has inherit his fathers great leadership, his mothers speed and grace. Excellent build overall and has led the team at all the last years. Sprint, middistance and longdistance.
Eyes and goniskopi clear. Hips A/C wil be xrayed again.


SE(polar)Ch Ylajärvis BG Leonhard "Leo"
Excellent movements. Extreamly strong and eager to please. A great tracker. Exellent build but max size
Eyes, Hips, Elbow checked clear.

SE(polar)Ch SEUCh Ylajärvis DT Helmer
Led the team at all competitions and victories as a yerling. Very small but excellent movements and body comformation. Lovely temper and loved pack member. Excellent leaddog and my nr1 on tours without tracks. Led the team at Polardistans 2014. From start - finish. Eyes checked clear. Fulfilled "Vita Bandet" 1300km expedition as a lead dog 2015

eyes and goniskopi clear. Hips clear



SE(polar)Ch IGAIS tassar Amurtigern Taitaz "I-Tiger"
Big and strong. VERY friendly dog. Never makes any problems. Can run anywhere in the team. Good leader but a injury almost stopped his racing career 2013. In the spring of 2015 he was back in shape and finished all stadges at Norway Trail. In 2016 he made a true comeback and run Polardistance 300 km and earned a bronze medal at European championships!
Breeed the Best - Forget the rest
Contact
Malin Sundin

+46 (0) 70 63 98 536
ylajarvis@gmail.com
www.ylajarvis.bloggplatsen.se

Näset 2
SE-794 92 Orsa
Sweden